A safe space for Ukrainian children and youth
Because the scout spirit calls for mobilization and solidarity, the Romanian Scouts have been involved since the outbreak of the war, on the one hand, in promoting peace, dialogue and the creation of educational materials and, on the other hand, in providing immediate support to Ukrainian refugees, helping them with transport, accommodation and meals.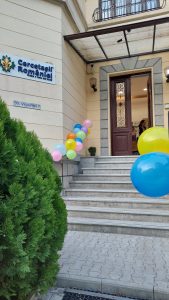 Then, a few months later, an idea came up to open a center in Bucharest where children and parents could relax for a few hours a day. This is how Scout Edu Hub, an educational center providing access to continuous training for children and youth and integrating the entire family into the community, came to be. Running physical, creative, cognitive and emotional development programs, themed activities for children or events for the whole family, the center's facilitators try to focus as much as possible on the needs of the refugees and help create a state of psycho-emotional balance to all those affected by the trauma of war at home.
Scout Edu Hub means a stable and safe space, a place that, according to Ana Maria Anghelescu – Center Coordinator, "can be seen as a second home, in the absence of the one they lost. This could be a space where children and parents can remember, for a few hours, that they have a few things to do here to distract them from the emotional stress that travelled with them to Romania."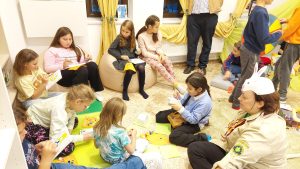 So the Scout Edu Hub has its doors wide open, encouraging and helping the little ones to gain confidence and open up in turn.  Right from the start, children took over the space as their own, teenagers little by little started coming up on their own with various activities they need, such as mindfulness workshops, and mothers could take the load off over tea and engage in various activities dedicated exclusively to them. As for language barriers, they were ignored by the Ukrainian children who played and learned, along with the Romanian scouts, to work with clay on a potter's wheel brought specially from Brașov or to make holiday decorations. Since the center grand opening in October, over 60 children and 50 adults from the Ukrainian community have received services offered at the Scout Edu Hub and the community continues to grow.
"We soon realized we needed to turn one-off assistance into a strategic project, because aid becomes effective if it can be provided in the long term, in a planned and structured way, both in terms of the impact of our support on the beneficiaries, and the impact on the human resources we engage",- Mihaela Gîrleanu, Managing Director.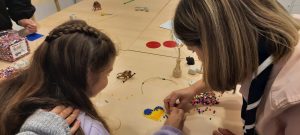 The National Scouts of Romania is one of the organizations that are part of Care for Ukraine Project, funded by CARE through SERA Romania Foundation, CARE France and FONPC.